Recruitment of Booth Owner (Group / Organization)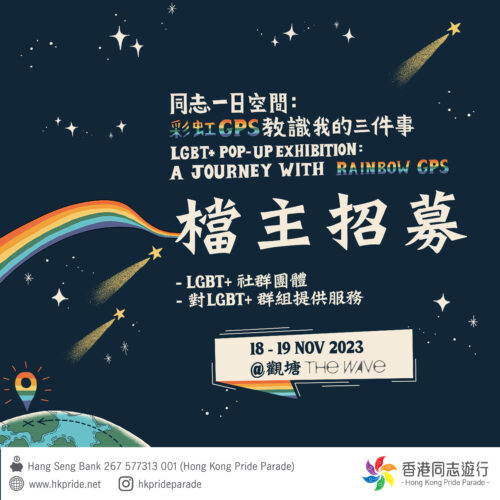 The recruitment of Mini Fair NGO Booth owners at 'Hong Kong Pride 2023 -LGBT+ Pop-up Exhibition' has started!
🏳️‍🌈Hong Kong Pride 2023 – LGBT+ Pop-up Exhibition
🗓Date: November 18 – 19, 2023 (Sat & Sun)
🕗Time: 12nn to 7pm tbc
🏬Venue: The Wave, Kwun Tong
💡Activity:  Exhibition, Mini Fair, Workshop
🙋‍♀️🙋Recruitment Targets🙋🙋‍♂️
-LGBT+ friendly groups
-Service provided to LGBT+ community
*Booths can sell goods or interactive activities. HK Pride will give priority to group booths that sell LGBT+ related goods or interactive activities with participants
📝Application form: https://forms.gle/NfGfcBjoAxpNqBf56
❗Closing Date of Application: 11 Oct, 2023 11:59 pm
*Kindly find the application details and instructions from the application form
We sincerely invite you, who are friendly to LGBT+ to become one of the booth owners of Mini Fair this year. As long as we come together again, we will surely find the strength to move forward. Looking forward to seeing you!
—
Stay tuned on our platforms: https://hkprideparade.carrd.co/ 
#hkpride #lgbt #lgbtq #hongkongpride #hongkong #pride2023